When we bought Hullabaloo two things that were highlighted on the survey were 1) the rigging was 12 years old, and 2) some of the seacocks needed replacing. While the insurance companies like the rig to be replaced every 10 years – and your boat sinking because of a faulty seacock is a literal downer – neither of these were urgent, particularly when we were sailing around the Med.
We knew that if we were going to go ahead and do the Atlantic crossing then we would want both looked at, and we knew there was a boatyard in Almerimar. We had worked out our passage times in advance and when we would need to be down in the Canaries for the ARC, so before we had even moved out to the boat we had scheduled being in Almerimar by the end of September. Slightly surprisingly, and despite the many unplanned stops for repairs and the unexpected work trip away, we arrived in Almerimar on the 28th September. This was just as well as we had booked accommodation nearby and planned to meet up with Jennifer's family for a week while the boat was out of the water.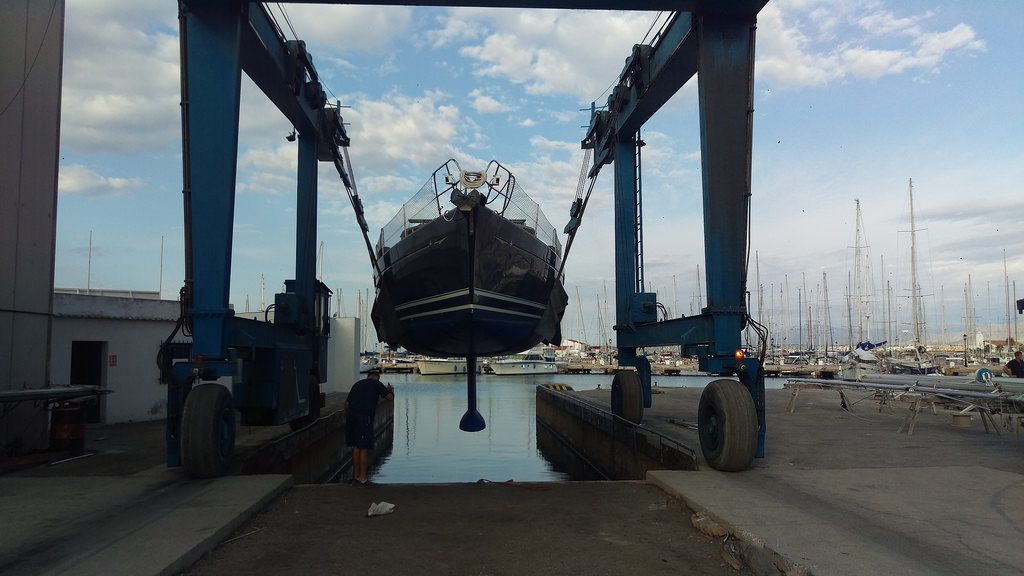 The boat work didn't go quite as planned (it seldom does), but when we arrived back in Almerimar after the week away the boat at least had the mast down and was out of the water for the seacock replacements. These were done and we went back in the water on the Wednesday. Our next problem was with the new rigging – the mast crane had been booked for the Wednesday to put the mast up as soon as we were back in the water but we had discovered the likely cause of our headsail furler jamming was the top bearing, and a new one wasn't going to arrive until Thursday morning. Part of the new rigging was the addition of a baby stay so we opted to put the mast up without the forestay and fit it separately once the top bearing arrived.
So on Wednesday we moved into the marina proper, next to our friends on Alesea and new friends on Haddock, and were treated to a fine dining experience on the pier courtesy of the children from all three boats. We spent the next few days waiting for weather to get down to La Linea de la Concepcion, on the Spanish border to Gibraltar, and our stopping point to prepare for our first Atlantic leg down to the Canary Islands.