Before we left the boys asked me what each day was going to be like while we were away. They wanted to be able to imagine how life would be different on the boat (I also think they were hoping for less school work).
I found this question quite hard to answer. We had been on a sailing holidays before but I knew living on a boat would be different. I hadn't even thought about planning a routine, but  I realised children feel much more safe and secure with clear rules and a distinct routine.
Life at home
Mornings
At home my routine had evolved through the necessity of working around school, work and clubs. I would set my alarm to the latest I could possibly manage (I really love my sleep). This just gave me enough time to get the boys, dressed, breakfasted and ready to head out to school or to their breakfast club. No time for tea (Horrible, I know!). This usually led to a lot of shouting, such as "WHERE ARE YOUR SHOES?" and "NO, I DON'T KNOW WHERE YOU LEFT YOUR TOOTHBRUSH" and "SERIOUSLY!!! I'M GOING TO MISS MY BUS".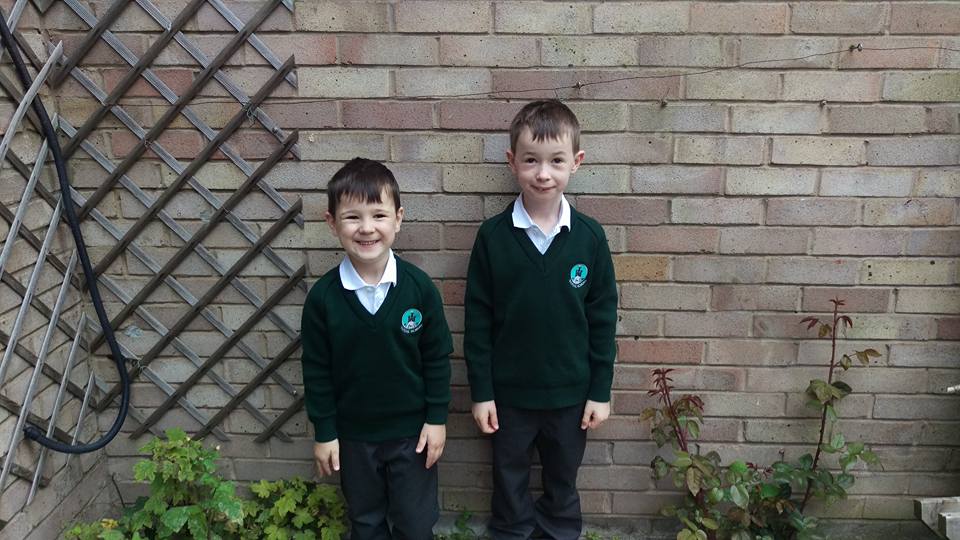 Then off to school we would go. And surprisingly, we always got there on time (and I mostly caught the bus, giving me a chance to relax). Then when I arrived at work I could eventually get my cup of tea (Phew!).
Afternoons/Evenings
Once I was back home I would then have to get dinner ready straight away, otherwise we would be eating too late. Then we would squeeze in homework with the boys (though I must admit we hadn't actually done any for about 8 weeks before we left).
After dinner it would be bath for the boys, reading stories, then bedtime. Dinner then had to get tidied up, and then I'd get whatever other housework done that I could fit in. Once that was done, Neil and I could watch 1 or 2 episodes of whatever program we were currently watching, or a movie – chosen based on how short it was (a 2 and a half hour film is definitely too long by this time).
Our new 'routine'
I think I was looking forward to the lack of deadlines and a more relaxing life.
Our original plan was to stay in one place at least every 2-3 days so we could enjoy each place we visited, and make sure there was time to get plenty of schooling done, but with our unplanned repairs (including installing a solar panel arch, a broken fridge, non charging boat batteries, broken engine alternator and generator, and a rip in the mainsail) as well as a schedule to keep to meet family in Spain and an Atlantic crossing from the Canaries, this has been more difficult than expected.  Our routine has to revolve around where we need to get to. And despite not having to work, I have actually felt that I have less control over my day than I had back home.
Mornings
Everyone still needs breakfast. However this now includes Neil. Neil has a coffee, and instead of his fancy coffee machine, I have to attempt to make decent coffee on a boat. And I still don't get a cup of tea – this time because it just doesn't taste right. If we have a long passage ahead of us, and start early, the boys get their own breakfast – I'm pretty sure they haven't chosen chocolate yet and do stick to cereal or fruit. Neil and I will just grab some yoghurt or cereal bars.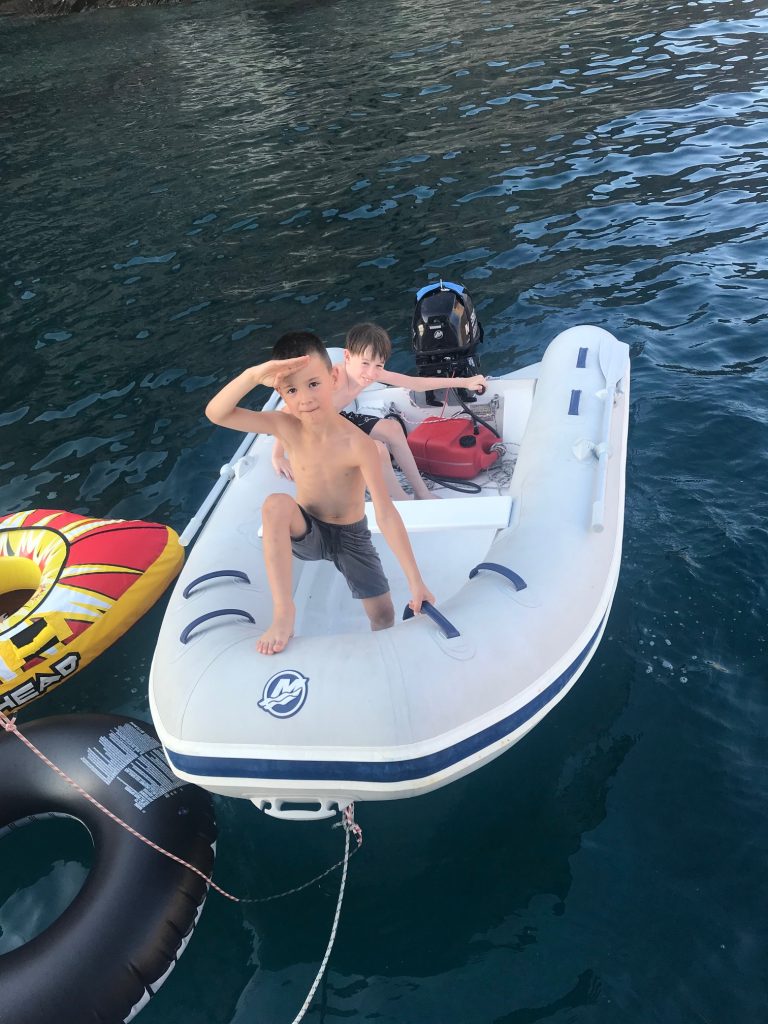 Afternoons
School work is done with the boys when we are not on the move. I tried this once while helming. A mixture of sea sickness and not paying attention to the autopilot going off course indicated that this is a bad idea. It's also really difficult to keep the boys attention with schooling. A mixture of cajoling, bribery and threats seem to work, although the calmness I hoped to find is a little bit far from reach as the 'getting to school' shouting has been transferred to 'doing the schoolwork' shouting. The call of the nice blue sea to swim in can lead us all astray, though, as it is very hard to ignore the beautiful blue sparkling water. And over the last 2 months the boys swimming and confidence has greatly improved, so I feel this is very worthwhile way to spend our time. We are also getting to spend so much more time together (even if Neil still has to work) and have met some other lovely sailing families doing similar journeys. It's been great for us and the boys to meet so many new people and to be experiencing life in a different way. So on a good day our daily routine becomes – breakfast, school, swim, school, lunch, swim, school and so on.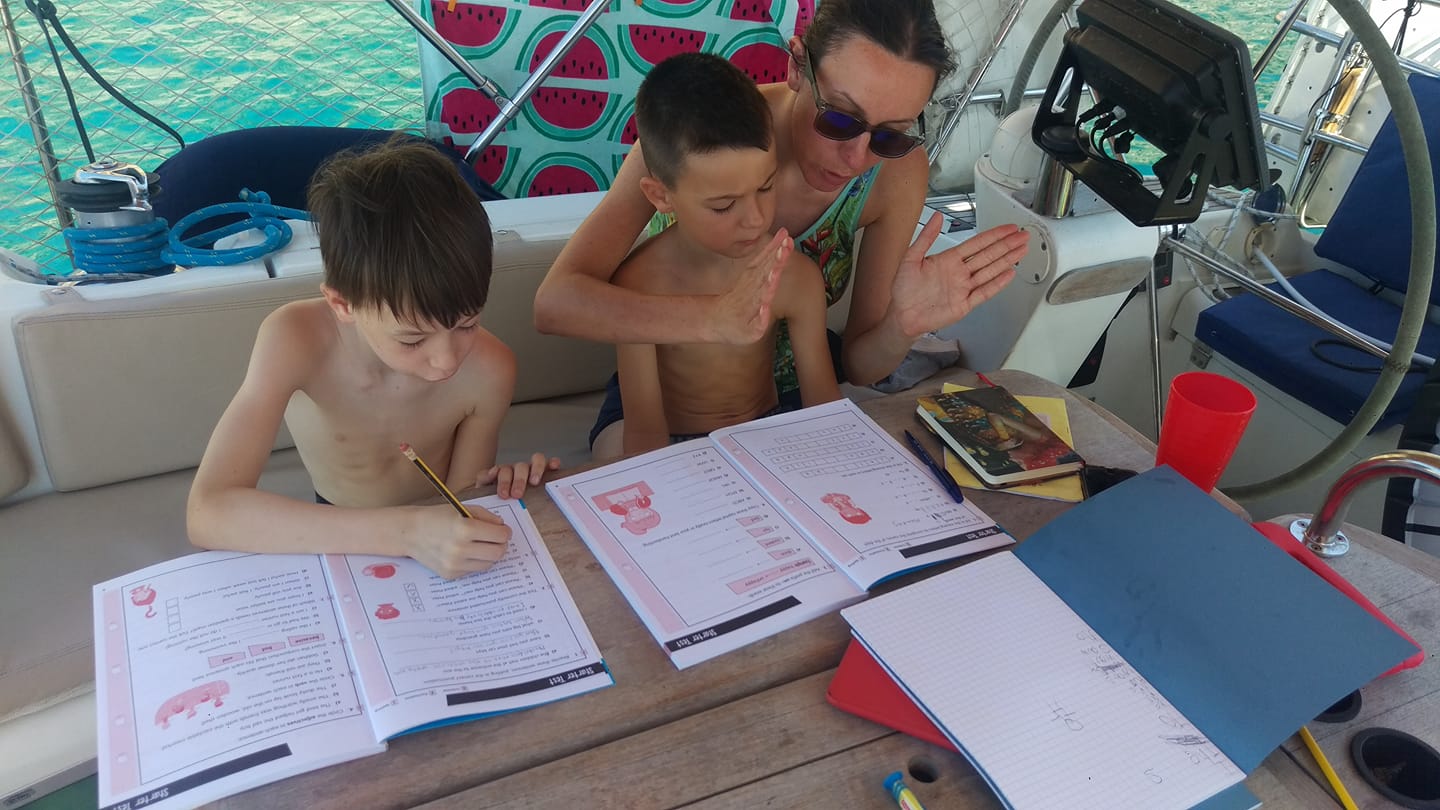 Then we have our sailing/passage days where we basically get up and get going. Neil (or the boys under supervision will start the engine). I'll make sure the anchor is coming in properly as Neil brings it in, or let go of the anchor lines when we are in a marina. Before we leave we also have to make sure everything is stowed away, otherwise cups, plates etc get thrown about if there are big waves. Neil will work and I will stay on helm trying to avoid doing anything in the cabin, and the boys will keep themselves entertained. This usually involves tablets, lego and drawing. Finlay will usually try to have a snooze (me too when I get a break from helming). Hopefully, we won't be on the move too long and get the boat somewhere nice to stop.
Evenings
Our evening routine hasn't actually changed too much, unless we are doing an overnight sail. Bedtimes seem to be much later – including the boys. Everything seems to take much longer. We don't have a TV but Neil brought a small projector and films on a hard drive, so we can still relax and enjoy a movie.
On an overnight sail someone has to be awake the whole time so we do shifts. We'll get the boys to bed, Neil will have a sleep till 10am, then I'll sleep till 2am and helm until 6am. I can then have another couple of hours sleep, hoping the boys won't wake me up.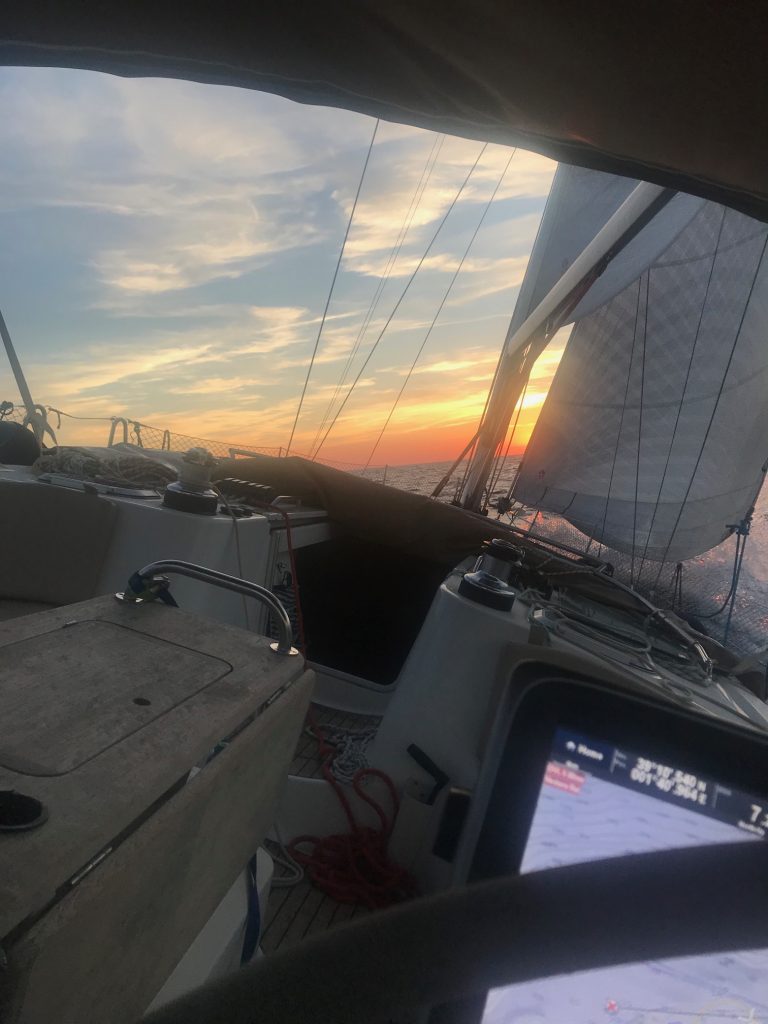 Despite having a schedule to keep we don't have strict deadlines, and once we get to the Caribbean we'll have no schedule at all. We have stuff to do (such as boat maintenance, school work, catching up with work.) but it can be flexible. This has been great; I've only needed my alarm twice so far so usually we can sleep until we wake naturally (or the children wake us up). We are spending much more time doing things we enjoy now – like reading, swimming, sleeping, and lovely sunny days visiting new places. It took about 9-10 weeks to settle into our new routine and working through the difficulties. it's starting to feel like our new normal.