Unfortunately housework continues even when you are sailing. Most tasks only vary a little. Cleaning is the same wherever you are, but cooking on a boat is completely different.
Cooking on a boat is pretty complicated
Getting everything switched on


Before you even start you need to turn on the gas for the cooker. There are 2 taps to turn the gas on; one at the canister at the top of the boat and another under the cooker,. It's also important to turn these off as soon as you have finished cooking in case there is a leak. Once everything is on then the cooker should work fine – unless you forget to check if there is gas in the spare canister for when you run out – oh well takeaway pizza for us! No one delivers to boats though so when that happened Neil had to take out the dinghy to the closest restaurant. At least I didn't have to cook!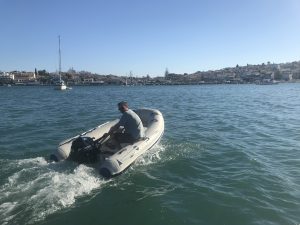 Boats don't stay still


Cooking while the boat is tipped to the side during sailing is not easy. Everything slides and falls over. And I get sea sick. And drop everything. There is handy edges on the worktops so things don't fall on the floor though, and, the cooker is also on 'gimbals' which keep it horizontal when the boat is not. This does make things quite challenging so I have avoided cooking anything complicated when we are on the move.
The space is incredibly small.


There are only 3 cupboards in the kitchen so most of the ingredients are spread around the cupboards in the living area. This means having to walk around the boat trying to find all the ingredients. Once you've started cooking there is no space to actually move around. It is frustrating but at least everything is within arms reach. It does mean I can cook and wash dishes at the same time (although that's not really an advantage!)
If you don't properly prepare, everything takes 10 times as long


The kitchen is well thought out. The fridge, freezer, sinks, and cooker all have lids/covers that are used as worktops. This does mean that preparation is very important – otherwise you are constantly moving utensils and ingredients around when you need to get something you've forgotten. And again when the boys ask for water or Neil asks for a beer. However I am learning habits to make this easier. First I need to make sure all the dishes are washed as we have limited plates/bowls etc. Then everything I need out of the fridge so I can use it's lid as a worktop.Then I get all the utensils and the rest of the ingredients. Now I am ready to start.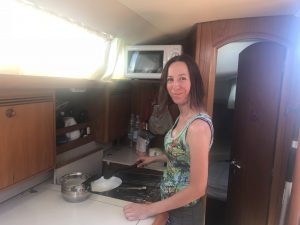 So many meals to make.
We are 5 weeks in, and I am struggling to think of different meals to have. I wondered why this was an issue till I realised I am now making breakfast, lunch and dinner EVERY DAY. Back home I would normally make breakfast, packed lunches for Conall (hummus wraps) and dinner 4-5 days a week. So no quick Boots Meal Deals for me or Dominos pizza when we don't want to cook.
Our core meals have been:
Omelettes


Despite not having access to exactly the same ingredients my omelettes seem to be turning out ok and everyone is still enjoying them (except Conall).
One pot tomato pasta.


We have had lots of Tomato Pasta, it is simple to make – any meal using only 1 pot is ideal, and the boys like it.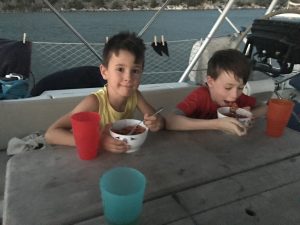 Fried rice                                                                                                                                             With tinned fish and tinned peas, as our issues with the fridge means I am wary of buying chicken.
Heinz Tomato soup and Bread                                                                                                      My home baked bread hasn't turned out too well, but the boys were so pleased we found the soup they didn't seem to notice.
Getting in to good habits makes cooking on a boat much easier – I just need some more cooking ideas. Any suggestions will be welcome.