We are in day 10 of our years journey. Day 1 and I got 16 mosquito bites. So we now have a mission. Stop the Mosquitoes.
Step 1 – Preparation. We knew there was going to be mosquitoes but were expecting more of these in the Caribbean. To prevent them from getting into the boat, we wanted mosquito net covers for the hatches. These can cost £30 to £50. We decided (Neil decided) that we should make them, this should save us several hundred pounds as there is 9 hatches. I ordered 15m of mosquito net, binding tape, some metal wire and fishing weights to create some covers. Of course I don't really know how to sew. I can sew a button but any hems get wundaweb. (For those of you that don't know what that is – it is a piece of tape that sticks hems together when you iron them). Thankfully my mum has a sewing machine and much more knowledge on sewing, We created some covers, it took about 3 whole days of work but we made them, and they look pretty good – just don't look too closely at the stitching.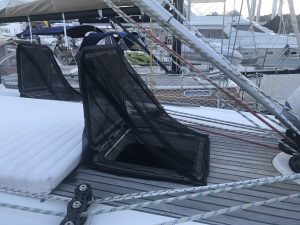 Step 2 – Defence. So it might of been a good idea to use insect repellent on the first day, but with so many things on our mind I just forgot. I did not forget on day 2 – though I still got 2 more bites. Must be more thorough as they are very itchy and have strangely turned into small bruises. Neil has tried a plug in, but this has been completely useless, he also found some incense spirals called 'Vulcano' which also reduce the number of mosquitoes that find themselves inside the boat.
Step 3 – Defend the children. It's quite time consuming making sure the boys are protected against the sunshine so I thought they were old enough to be in charge of putting their own insect repellent on. They are very thorough, and seem to be bite free so far.
Step 4 – Attack. We have a device called 'The Executioner'. Aptly named. It is like a tennis racquet but electrified. Hit a mosquito with it and press the button. You get a lovely crack and spark and the mosquito is vaporised. This is quite satisfying and can be turned into a great game with the kids. Though not sure if this is the kind of thing we should really be encouraging.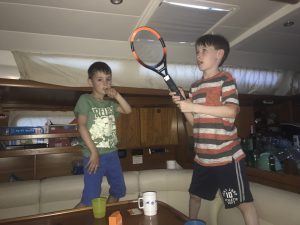 Anyway, the count is on as I suspect this will be a constant battle for being bite free.