Sailing with two boys has many challenges. Keeping them entertained while sailing or motoring can be difficult, especially when Neil has to work and I have to be in charge of steering. At home we relied on tablets, TV, computers when we needed to get things done but with lack of power and Wi-Fi this is not as easy. Getting the boys involved and learning about sailing is also a challenge, but as we go along we are becoming more comfortable and confident ourselves so that we can can get the boys involved more easily, such as in tying lines, dealing with fenders, and keeping a lookout.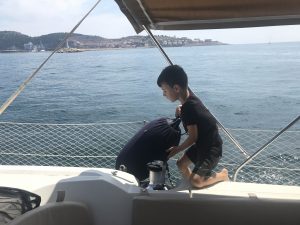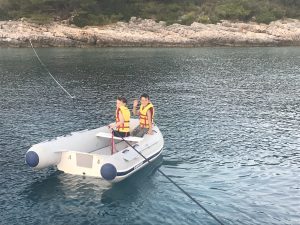 However, who would have thought that finding hummus was going to be one of our more difficult challenges. If you don't know Conall (our eldest son), then you may be wondering why this is problematic. Conall loves hummus. He is a fussy eater so he eats it all the time – mostly in sandwiches or in tortilla wraps.
In Venice it wasn't too difficult to find. We just had to visit 3 shops to achieve our goal. Croatia has been a problem. They seem to have a hummus shortage. Poor Conall has gone for almost 2 weeks without hummus. It has been a tragedy! We had a ray of hope in Split where we eventually found some. We stocked up, however it is more of a paste than the hummus we are used to, but Conall has had to make do. We have now left Croatia and will soon be in Corfu, Greece. We are optimistic that hummus will be plentiful there.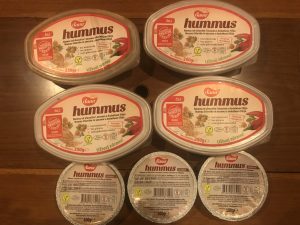 This does make me think about how I take all our food choices in the UK for granted, or at least the choices that I am used to at home. Where is all the cider in Venice? How can I get a lovely cup of Tetley tea. In the shop at Dubrovnik Marina there were over 20 different types of tea, and even with Google translate I didn't know what most of them were. None were Tetley. Most of the locals can speak some English to help though which helps in trying to source specific items.
It can be very comforting being surrounded by familiar things, especially when we are far away from home. At least you can always rely on getting Coca Cola. We have been away for almost 3 weeks now – so far it's just a long holiday, but we are slowly adjusting to the things we are missing. For Conall hummus and Scotmid pancakes. I am missing Crunchy Nut Cornflakes and Kopparberg. Finlay is just missing having as much food as he can. When you are sailing you can't just nip into Scotmid to pick up the milk you forgot, so we need to plan out weeks in advance all the meals, snacks, and drinks we'll need. Making sure we have tinned food that will last is essential.
The reason for this trip, however, is to gain new experiences, so I will remind myself (and the kids) that as we are visiting new places we should also be trying to eat new things. This may be another big challenge for Conall. We'll see how we get on!